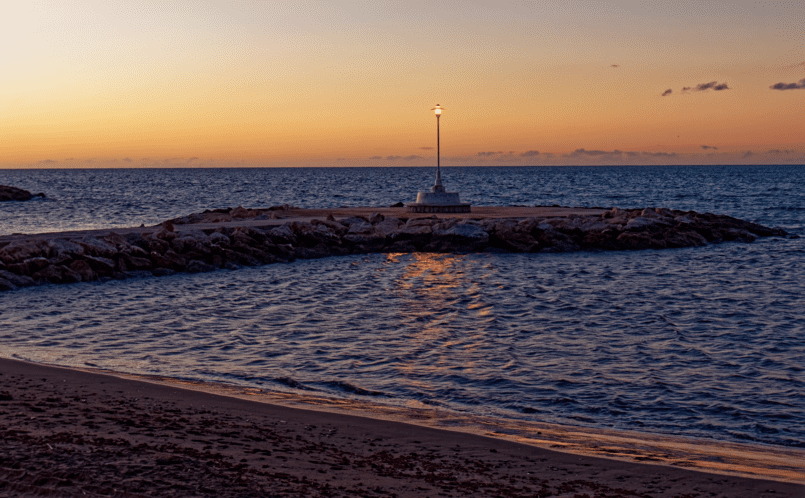 Quiet Beaches Near Málaga
Summer is almost here with its warm weather and sunny hours that invite you to spend a day getting tan and enjoying. If you prefer to stay away from crowded places, keep reading to discover quiet resorts near Málaga. Or you may also be interested in our post about Malaga's Best Chiringuitos.
Huelin Beach
Although most people call it Huelin Beach, its real name is San Andrés Beach. It is an urban beach located in the neighborhood Huelin, on the western coast of Málaga, between the seaport and Misericordia Beach.
The beach is 700 meters long and 50 meters wide, with dark sand. By its side, there's a long promenade commonly used for wandering, riding bikes, or skating. There are also many restaurants and beach bars for enjoying typical food while enjoying the sun.
During the summer, it has high-level occupancy due to the perfect location it has: many parking slots available, restaurants around the corner, and the
an emblematic building of La Tabacalera, an ancient tobacco Factory that hosts some cultural spaces and museums. However, the rest of the year is less crowded and still sunny so is one of the quiet beaches near Málaga to spend a whole day sunbathing.
Misericordia Beach
When talking about quiet resorts near Málaga, we have to keep in mind Misericordia beach. It's an urban beach with dark sand situated on the western coast of the city, between the Guadalhorce and Huelin beaches.
With more than 1.200 meters long and 30 meters average wide is one of the most popular seasides of Málaga. It's completely equipped with services such as garbage bins, showers, and hammocks, and sunshades hire, which makes it quite comfortable for spending a whole day.
Apart from the full range of services, this beach is quite famous for the old Factory chimney that's viewable from afar. Nowadays is renovated and tells us the history of the industrial past of the area.
Peñón del Cuervo Beach
Peñón del Cuervo beach is located in the Eastern district of Málaga city. Its name is due to the rock formation next to the shore that divides the beach in two.
It's a secluded beach with dark sand located in the Eastern littoral of the city, between El Candado beach and La Araña beach. It has about 350 meters long and 25 meters wide.
Going to Peñón del Cuervo Beach should be on your bucket list when it comes to visiting quiet beaches in Spain. It's integrated with an urban forest park called Terrestrial and Maritime Park Peñón del Cuervo. It's perfect for organizing moragas (night meetings with friends at the beach eating and drinking seated next to a stake) thanks to the picnic areas and controlled spaces for barbecues.
Guadalhorce Beach
Guadalhorce beach, in Málaga, is located in Churriana district next to the river Guadalhorce mouth. Although the beach is still in Málaga city, it's a good idea to reach it by car because is a bit far from the city center.
The beach has dark sand and is 650 meters long and 60 meters wide. The natural conditions of the river's mouth make it more inaccessible than other beaches, but at the same time turns it into one of the best quiet beaches in Málaga. 
This area, declared Natural Site for its high environmental value lets many species live in this place. Also, its location makes it part of the routes the bird takes when migrating across Africa and Europe.
Guadalhorce Beach is also a perfect place for those who want to bring their dog to the seaside because there's a part where they're allowed.
Enjoy these quiet beaches, and if you need a rental car to visit it, don't dude to contact us.