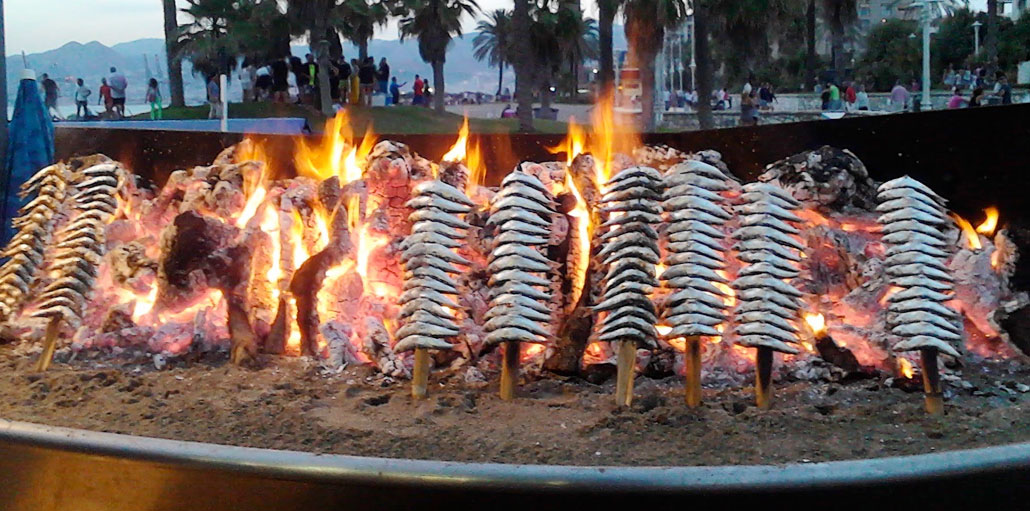 Enjoying authentic sardines in Malaga – El Espeto
Málaga cuisine is well-known because of its grilled sardines that you can find every corner of the Malaga's street. The way of cooking sardines are different, some prepare it with a grill and many use it as a topping on the salad. An Espeto is cooking usually with the six sardines and that is cooked on a single bamboo rod. The making process of Espetos is done with the wood fire. Traditionally, only olive wood is being used in grilling because their own fragrance that enhances the taste of Espeto. Sardines are not used just locally but there are many other regions, where people love to eat it. Sardines are basically a very healthy species and being used as seasonal spawners and the population of its bounces back frequently.
If you want to do a route along the Malaga coast eating "Espetos" you can car hire at malaga airport.
The ways sardines are being served:
Different people have various choices to use it.
Grilled sardines:
The grilling of sardines is of many types but traditionally, it smokes with the olive wood fire. A specific fragrance that is ubiquitous on the beaches in and nearby the Costa del Sol. It is said that the grilled sardine is not just eaten in Malaga but the whole country enjoys it. In different regions of the town, special pronunciation has been used as "sardinadas. Moraga is called in Granada. Now, the fact is, grilled sardines are more popular in the Malaga than Costa del Sol.
 
Cooked sardines:
To cook sardines with a little more enthusiasm, cube up an onion and fry it for 4 minutes and then add the fish. All the sardines, Put in the frying pan and be careful about not to splash the warm oil out. Now, cook the sardines from each side and keep this process long for 2 to 4 minutes. Every time when you turn the side, rotating them very gently by using kitchen tongs. You can also use a spatula for turning the fish.
Sardines as different toppings:
Sardines have many options in term of toppings like, it can be eaten with the Pair of avocado, or you can eat it with tacos. Many people use to eat it in the salad. Many Spanish salads are adding sardines in their recipe. The reason is, Spanish people are very healthy and that is why they add this in their daily food.
The sardines' nourishment level is great in protein. It also helps in heart's health as well as important micronutrients, for example, phosphorus, vitamin B12, and selenium.
Tin packed sardines:
You can easily eat can sardines. The local market is full of different packing of this fish food. People eat it as side food. The can sardines already cooked and having its own juice that makes it juicy and stays for a long time. The already cooked sardines can be eating with folk and other sauces but most of the time; it's used mostly in salads.
Spanish cuisine has many salads that have sardines in them. The super light salads are very healthy and mostly prepare under the traditional recipes. The most loveable type of sardines is a grilled one. As you reach to any beach, you will smell the very light and delicious fragrance that came because of grilled sardines. If you want to try some, you must visit any beach area, where you can easily find the cart that has flavorful grilled sardines. You can add chilies and species on your piece of sardines and also add lemon that really rich the flavor of the grilled sardines. You can easily judge the taste difference between the home-made sardines and grilled one. You will definitely vote for the grilled one.